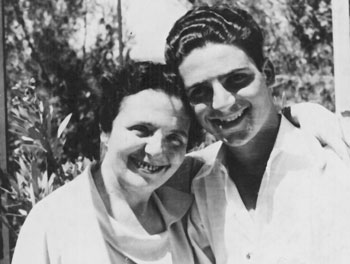 Raphael Sommer (1937-2001)

Raphael Sommer was born in Prague and was one of only a handful of children to survive Terezin. He was sent to the camp with his parents in July 1943; a year later his father Leopold, was moved to Dachau, where he died six weeks before it was liberated. Mother and son were billeted in a narrow room with 16 other inmates, but fortunately remained together.

After the war they reached Israel where Alice became a teacher and Raphael a pupil at the Rubin Academy in Jerusalem. His first instrument was, reluctantly, the piano until, at the age of 11, he embarked on a happy and enduring relationship with the cello. Lessons with Paul Tortelier in Israel led to a scholarship for further study at the Paris Conservatoire.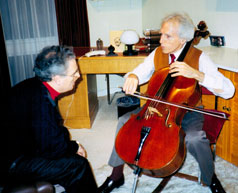 A succession of prizes and outstanding debut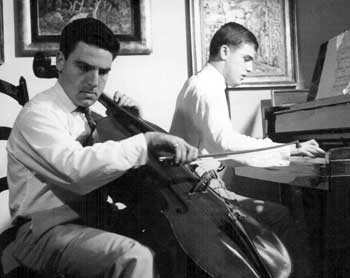 performances, followed by a season with Rudolf Serkin at the Marlboro Festival in Vermont, consolidated his reputation.
The Finnish cellist, Arto Noras, also a Tortelier pupil, emphasises that for Raphael 'the essential was the composer. He always tried to avoid any kind of artificial effects of instrumental mannerisms, which string players so often carry from one composition to another'.

In 1967 a parallel career as a highly respected teacher began when Raphael took over the cello department of the Royal Northern College of Music in Manchester.
In 1989 he became professor at the Guildhall School of Music and Drama in London, as well as a judge of international competitions.

Raphael wrote that 'one of the greatest pleasures of music is to make other people listen to it; to feel, for just a moment, a tiny part of an ideal world in which everything is good, beautiful, harmony, love'. It was this that inspired him and his wife, the French cellist Genevieve Teulières to establish a music festival in Gex, where they had a home.

Sommer's gifts as a recitalist found their most recent expression in the chamber ensemble Trio Salomon, which had just completed a hugely successful tour of Israel when he became unwell and was taken to hospital.

After taking part with his mother in a radio documentary about the music of Terezin, Sommer wrote and presented talks programmes, including a profile of Tortelier and the series Manners; as its producer, I found he was that rare phenomenon, a musician who could write as well as he played.

Despite his harsh childhood experiences, his success was achieved 'without elbows' – that is, beautiful playing rather than by clever management. He cherished his private life and nurtured friendships as much as his career, read widely and enjoyed theatre.

One friend said that Sommer bound his friends to him with 'hoops of steel'. When invited to visit for a meal, a guest was likely to meet the same people each time. Companionship and affection were his purposes, not networking and he was as loyal to his friends as to the composers he interpreted.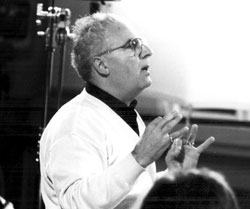 Trustees

Genevieve Teulieres-Sommer (Chair)
Arto Noras
Yan-Pascal Tortelier
David Sommer
Ariel Sommer

Registered Charity: 1102269